Contemporary Australian Poetry
Edited by Martin Langford, Judith Beveridge, Judy Johnson and David Musgrave. Surveying the work of the past 25 years.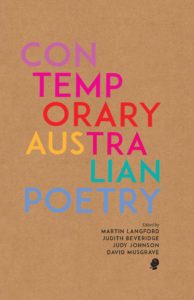 To be launched in:
Sydney
The ANZAC Room (1st Floor), Paddington RSL, 220-232 Oxford St, Paddington,
3 for 3.30pm, Saturday November 12th,
by David Malouf
Melbourne
The Performance Space in the Wheeler Centre, 176 Little Lonsdale St,
3 for 3.30pm, Saturday November 26th,
by Chris Wallace-Crabbe
'Offering loved, favourite poems as well as joyful discoveries, this landmark anthology showcases the strength and range of recent Australian poetry. It's a book I'll keep close and return to frequently.'
—Michelle de Kretser
The quality of Australian poetry has never been higher, nor the number of distinctive voices greater.
This collection presents the astonishing achievements of Australian poetry during the last quarter of a century. Over ten years in preparation, gathering over 200 poets and 500 poems, it makes the case for this country's poetry as a broadening of the universal set for all English-speakers.
'Somewhat astonishingly,' the introduction notes, 'and while no-one was looking, Australian poetry has developed a momentum and a critical mass such that it has become one more luminous field in the English-speaking imagination. Increasingly, anyone who seeks to explore the perspectives or music available in English will also have to consider the perspectives and music which have originated here — Australia having turned itself, too, into a place in the mind.'
Both survey and critical review, this anthology offers a rare opportunity to explore the major national achievement that is contemporary Australian poetry.
The editors:
Essayist, poet and critic, Martin Langford has published seven books of poetry, the most recent of which is Ground  (P&W, 2015). He is the poetry reviewer for Meanjin.
Judith Beveridge has published six collections of poetry. She was poetry editor for Meanjin from 2005 to 2015 and teaches poetry writing at post-graduate level at the University of Sydney.
Judy Johnson was editor of the Wagtail poetry series from 2000 to 2011.  She has published five collections of poetry – many of them prize-winning – and several chapbooks.  Her verse novel  Jack (Picador, 2007) featured on the syllabus of both Sydney and Melbourne University.
David Musgrave founded Puncher & Wattmann in 2005. Poet, critic and novelist, he has published six collections of poetry, and has won many awards for his work. He teaches Creative Writing at the University of Newcastle.
Contemporary Australian Poetry can be purchased from this website.