Ground by Martin Langford
A meditation on Australian spaces
Puncher and Wattmann warmly invites you to the launch of Martin Langford's first book of poetry since 2009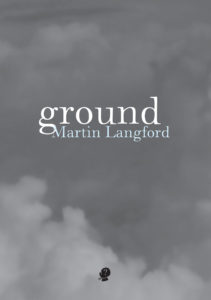 Venue: Benledi House, 186 Glebe Point Rd, Sydney
Date and time: Sunday 16 August, 2.30 for 3pm,
Ground is available from the Puncher & Wattmann website
      Because there is no ground/ but the dancing between us. . .
says the title poem:
      No ground but legs and their fancywork, bones and their song.
Langford's new collection is a meditation on the nature and evolution of Australian spaces, exploring the tension between our enlargement narratives, and the need to resist them by acknowledging the others with whom we interact.
Loosely chronological, it begins by locating us within the natural world, and continues with poems about our disjunctive attempts to rationalise the nature of settlement. There are sequences on the nature of Australian silences, on transitional periods in the nation's interior life and on the cultural layering of our suburbs. One section explores ways in which Australia has been represented, and another what Langford nominates as the seven Sydney seasons. The book culminates with a sequence in which our interactions are conceived as dances, as opposed to that mutual overwriting which is driven by the anxieties of the self.
Martin Langford has written six books of poetry, including The Human Project: New and Selected Poems (P&W, 2009), and is the editor of Harbour City Poems: Sydney in Verse 1788-2008 (P&W, 2009). He has had a long-term involvement in the organization of poetry events, has directed the Australian Poetry Festival three times, and is the Deputy Chair of Australian Poetry Ltd. He is the poetry reviewer for Meanjin.
"profoundly generous and profoundly important poetry . . . a truly visionary poet"   (Andy Kissane)
"here is a poet who convinces us that poetry matters" (Peter Kirkpatrick)